Firmware updating and flashing
Firmware update is a simple process which is done via the USB cable and the computer. The latest version can be always found at prusa3d.com/drivers. It is recommended to download the latest version, in order to have your printer up to date.
Actual firmware version running on your printer can be found in LCD menu - support - Firmware [version].

Firmware updating
Install drivers on your Windows or MacOS. You can find latest drivers on this link.





Scroll down to the Firmware section. Download the zip file which contains firmware for your printer (MK2/S, Multimaterial or MK3).
Unzip the downloaded file.Then you can use enclosed guide to select the correct firmware for your mini RAMBo version.

All of the Original Prusa i3 MK2/S/Multimaterial owners will be using the one containing RAMBo13a.
Original Prusa i3 MK3 owners shall just download the zip file with MK3 firmware which contains proper .hex for MK3.



*Just for the reference, RAMBo10a is only for users with older miniRAMBo board version 10a





Upgrading the firmware:

Connect your printer to the computer using provided USB cable and turn the printer on and launch the FirmwareUpdater app.

Choose your firmware .*hex file.

Choose serial port of your printer.

If you don't see your printer on the left, hit the Rescan button and wait around 2 seconds.

Everything is done now. Happy printing!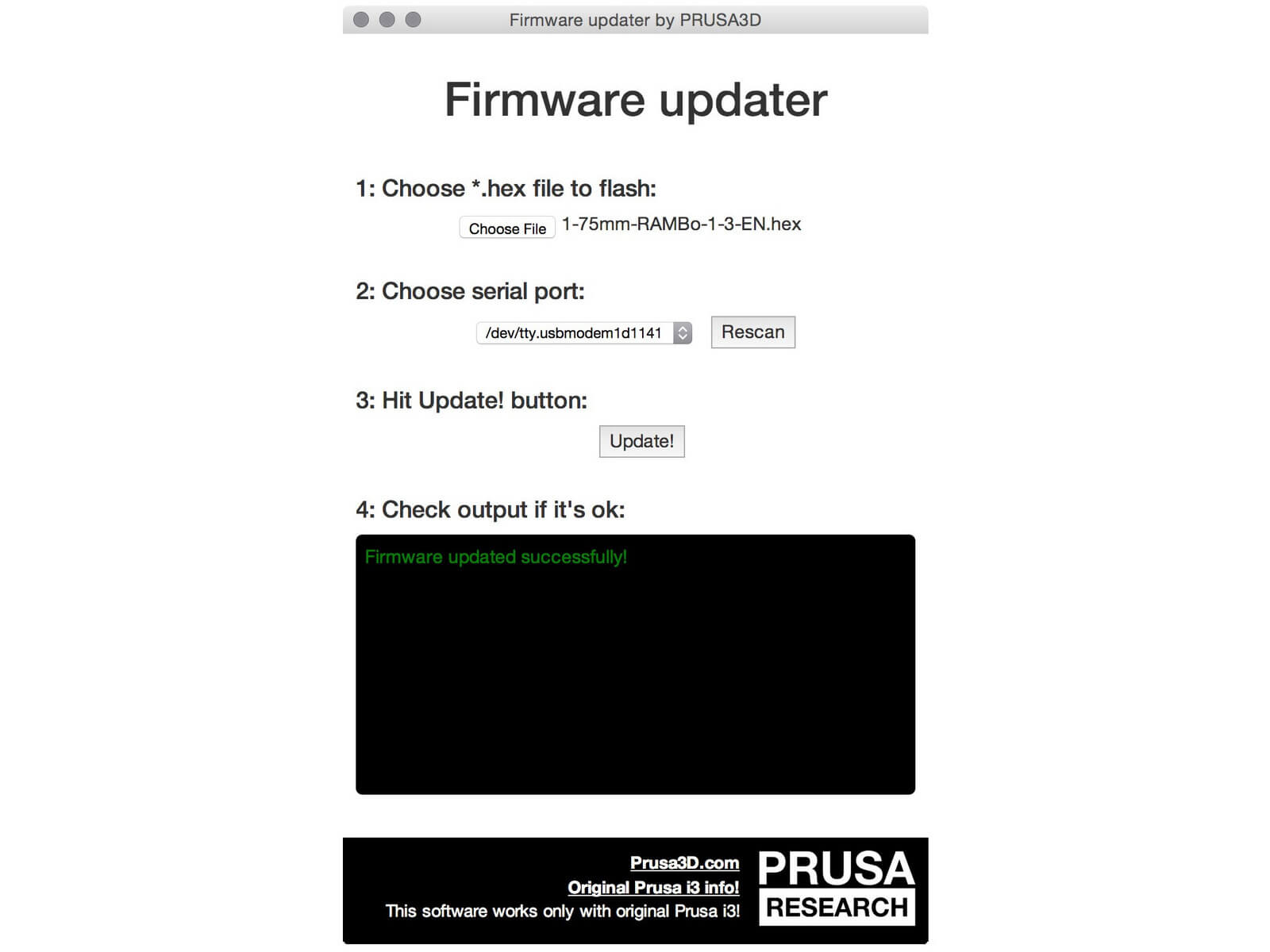 Update process may take up to 5 minutes.

Do not hesitate to contact us at info@prusa3d.com if you have any following questions.
---
How did we do?
---
---