Increasing PEI adhesion
In certain situations, you will need to achieve a better adhesion than usual. One such example could be printing a tall object with a small contact area on the print surface. Fortunately, PEI (polyethyleneimine) is a chemically resistant polymer, which enables you to apply various adhesion solutions without damaging it. Adhesion solutions are also useful for materials that would otherwise not stick to PEI - like Nylon. 
Keep the print surface clean, since a clean print surface is the only way how to achieve perfect adhesion. You can find more information about that in our article about 
PEI print surface preparation
.
Avoid compensating lack of adhesion by setting a lower Live Z (squishing the first layer). If lowered too much, the nozzle can damage the steel sheet as well as your X axis rods because of excessive vibrations. Any damage caused by incorrect Live Z value is not covered by the warranty.
Brim
Before you consider applying extra adhesion materials onto the bed, consider using the Brim option in PrusaSlicer which increases the surface area of the first layer. You can set the brim size manually in PrusaSlicer by going into Print settings - Skirt and brim - Brim. Generally, it is advised to use at least 3 mm brim to increase the adhesion. 

You should consider using the brim option when printing:
Tall objects with a small base.
Multiple objects at once.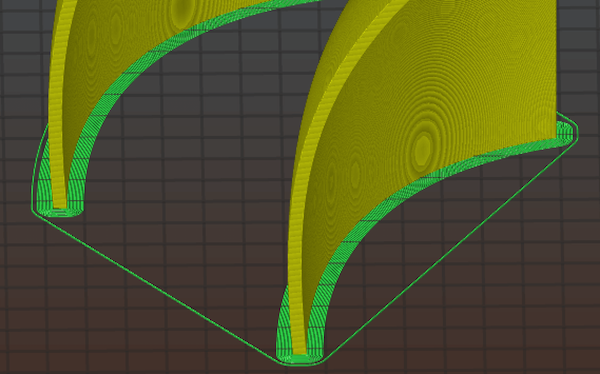 Glue
Glue is a great, easy to use tool to increase the adhesion. There is no special glue for 3D printing, you can use a basic glue stick. From our experience, it is only needed when printing:
Nylon
PETG
Other more exotic materials with lower adhesion
You can easily wipe the glue off with window cleaner or dish soap water.
ABS juice
For ABS prints, ABS juice can be used. It is a mixture of Acetone and ABS pellets. Be very gentle when applying the juice and do so only when the bed is cold. Prints will attach very strongly. 
Ready-made juice can be
purchased in our e-shop.
Unfortunately, UPS service does not allow us to deliver any acetone-based products via air transport due to shipping constraints.
For the textured steel sheet, do not use ABS juice at all!
Acetone
PEI can lose its adhesive powers after a couple of hundred hours. When you see models coming loose regularly, wipe the surface thoroughly with acetone to restore the adhesion.
Do not overuse acetone. Extended use makes PEI surface brittle. Also, do not use acetone before printing with PETG.
For the textured steel sheet, do not use acetone at all!
---
How did we do?
---
---