The Original Prusa Curing and Washing Machine (CW1/S) uses isopropyl alcohol (IPA) to wash the uncured resin around the print model before curing it. The resin usually leaves pigment in the IPA, especially on the first wash. This can stain other models when you reuse the same IPA. To solve this issue, we have developed a cellulose filter that fits into the CW1/S.
The filter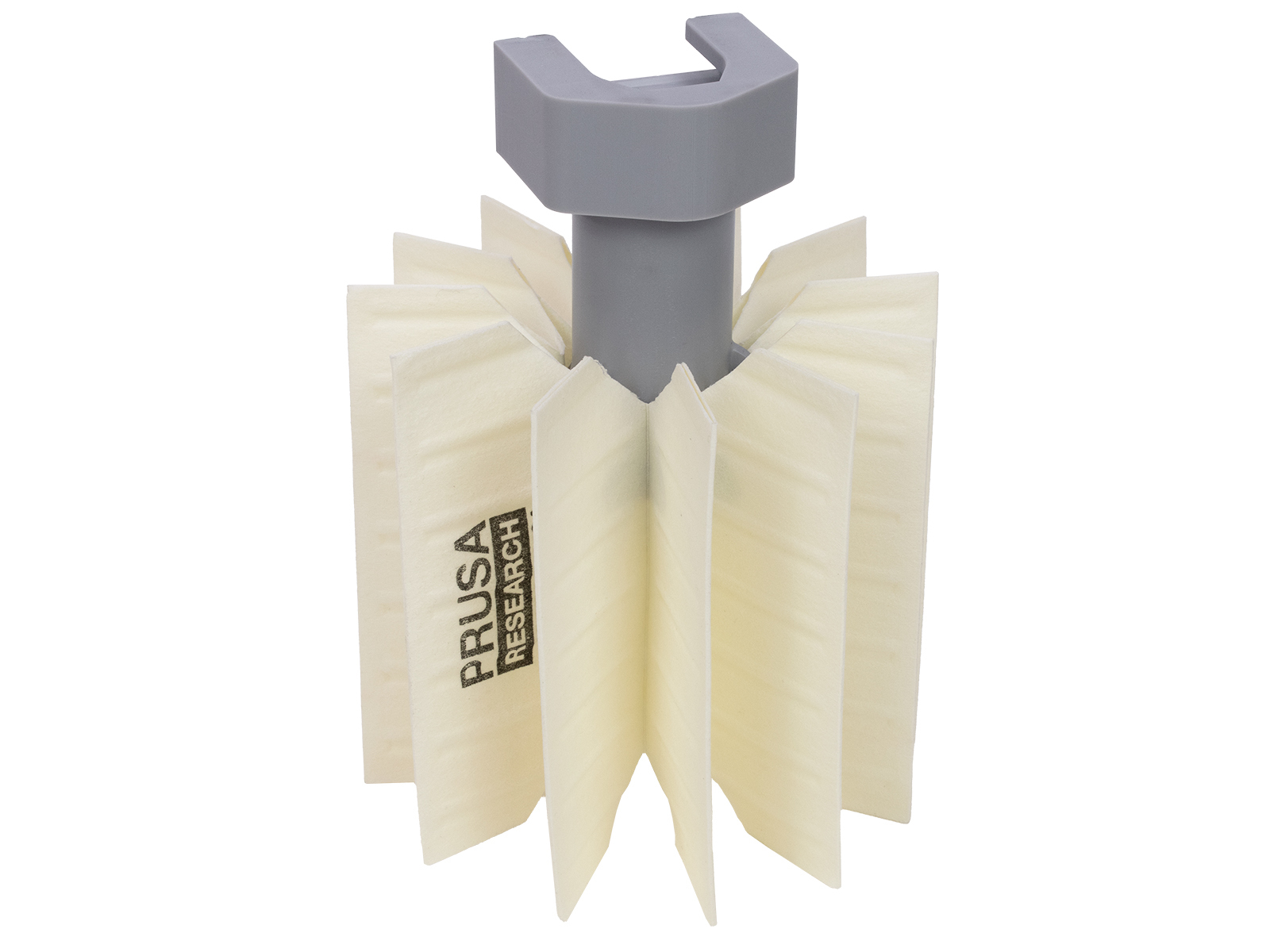 The IPA pigment filter consists of a special folded cellulose filter with 12 double-sided cutout ribs. It is meant to remove the color pigment from the IPA that is used in the CW1/S.  The filter also removes the filler, which can leave a white powder on the model after washing, from the IPA.
Note that IPA will not have an extended lifespan in terms of the effectiveness of removing the resin from the model, it just cleans the pigment so that the next prints are not stained.
Where to find it
The filter can be found in the eshop. The purchased part is the filter and the holder must be printed (available at Printables). You can find how to assemble the parts here: IPA pigment filter [進行中の翻訳].
The holder can also be printed by an FFF printer with PETG filament. Note that in this case, the holder's lifespan will be shorter than if printed with resin.
How to use it
Firmware 3.3.0 and newer (recommended method)
Starting from firmware 3.3.0, the CW1/S has the IPA filtering option in the menu. This mode will spin in one direction for 40 minutes to filter the IPA.
Also starting in this firmware, the washing mode will spin in both directions. This direction change is not good for filtering, so do not use the washing mode to filter the IPA.
Firmware 3.1.0 and older
Firmware 3.1.0 and previous releases are not supported, therefore it is recommended to use release 3.3.0. In case you are unable to update, there is a unofficial and not recommended solution.
After inserting the filter assembly on the CW1/S tank lid, you can place the tank on the machine. In the CW1/S menu, go to Run-time -> Washing run-time, and set it to 10 minutes. Use this mode four times to filter the IPA (40 minutes in total).
Disposal
The filter is rated for up to 10 uses. Before discarding the filter, cure it in your CW1/S for at least 20 minutes.