Firmware updating and flashing
Updating the firmware is recommended for all users as every new version brings new features and bug fixes. To flash the firmware into your printer, you need a computer (running on Windows, macOS or Linux) and a USB cable, preferably the one, which was included with your Original Prusa i3 printer.
Prusa i3 based FDM printers
To flash the firmware into your printer, connect its motherboard (RAMBo) to your PC using a square-shaped USB-B 2.0 cable.
To flash the firmware into your MMU2 or MMU2S upgrade, connect the MMU control board using a MicroUSB cable to your PC.

You fill find both the firmware and the software to flash it on our website. See the photos of the printers and compare them with the printer you have on the table.
To check which firmware version you have in your printer, power it up and in the LCD menu, go to Support. Scroll down and you will see the firmware version.
Install the latest drivers.
Open your PrusaSlicer, click on the Configuration menu and choose Flash printer firmware (even when flashing the MMU firmware)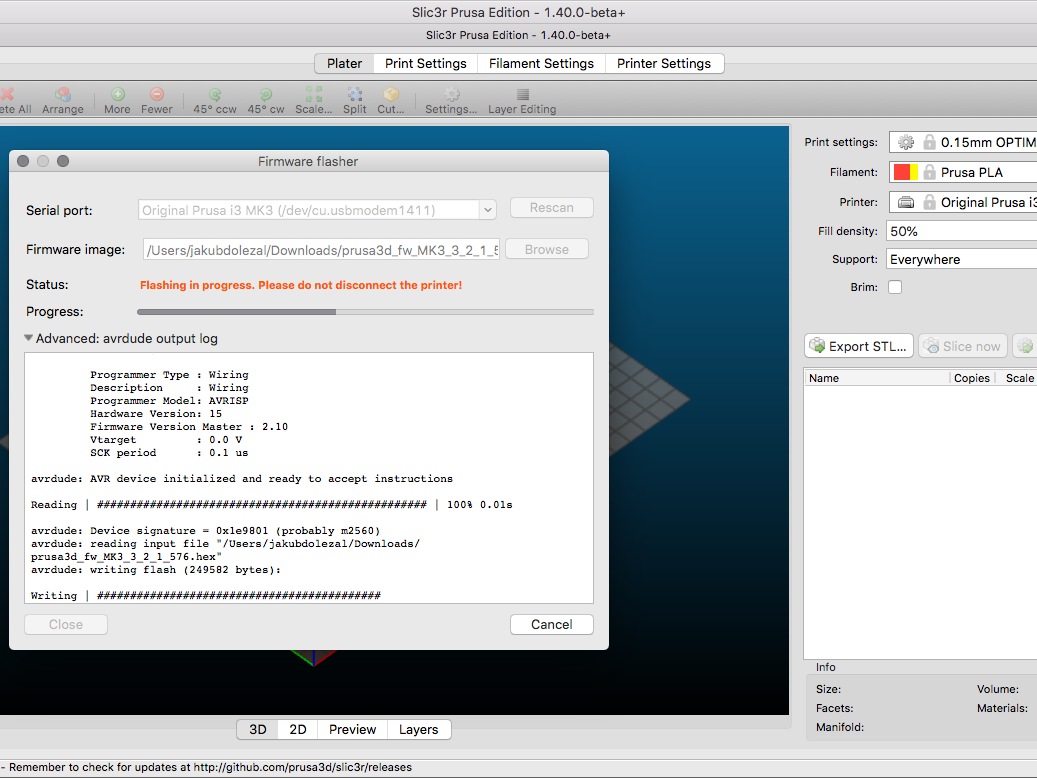 To upgrade the firmware, you can also follow our step-by-step guide: Upgrading the firmware
The firmware updater is part of the Slic3r PE starting version 1.40.0
Prusa SL1 printer
there are two ways to update the firmware of the SL1 printer.
If your printer is connected to the internet, it can check whether a newer firmware is available online. In that case, you just need to follow the on-screen instructions.
If the printer is not connected to the internet, you can update the firmware using a USB drive. Download the firmware file, place it on an USB drive and plug it into the printer. The system will recognize the file on the drive and initiate the update process automatically.
---
How did we do?
---
---