If your printer doesn't turn on, keeps turning off, or is stuck in a boot loop, see here how to fix the issue.
The printer is stuck in a boot loop
This can happen if you are trying to re-flash the printer firmware, or on rare occasions when trying to start a print. The solution for this issue is to turn off the printer on the PSU button and turn it on again (do not use the LCD reset button for this issue).
In case the issue is not fixed, make sure that all the cables are properly connected to the main board.
The printer does not turn on
If your printer does not turn on at all, then there might be a more serious problem present. Try the following steps:
Turn the printer off and disconnect the power cord.
Check all the wiring for broken cables. In some cases, overtightening the zip-ties can damage the wire insulation and cause a short.
Check the wiring of your RAMBo board. Make sure that the PSU cables are properly plugged in.
Use the appropriate guide to check if any of the fuses in your printer are blown

MK2S / MK2.5 / MK2.5S
If your printer happens to power off during the initial preheating process, there's usually no serious damage. Most likely you just have the voltage switch set to 220V in a 110V power environment.
Turn the printer off and remove it from the power source.
Find the AC voltage switch for 110v or 220v on the PSU.


Make sure that the rocker is switched to your local voltage setting.
Try to turn the printer on again.
Both the silver and black Delta PSU will automatically switch between 110V and 220V, depending on the grid it is connected to.
Checking status-LED on the PSU
Every PSU has a green indicator LED to show whether it is active or not.
The silver PSU has this located inside its case, seen through the metal cover, in the bottom-left (purple arrow).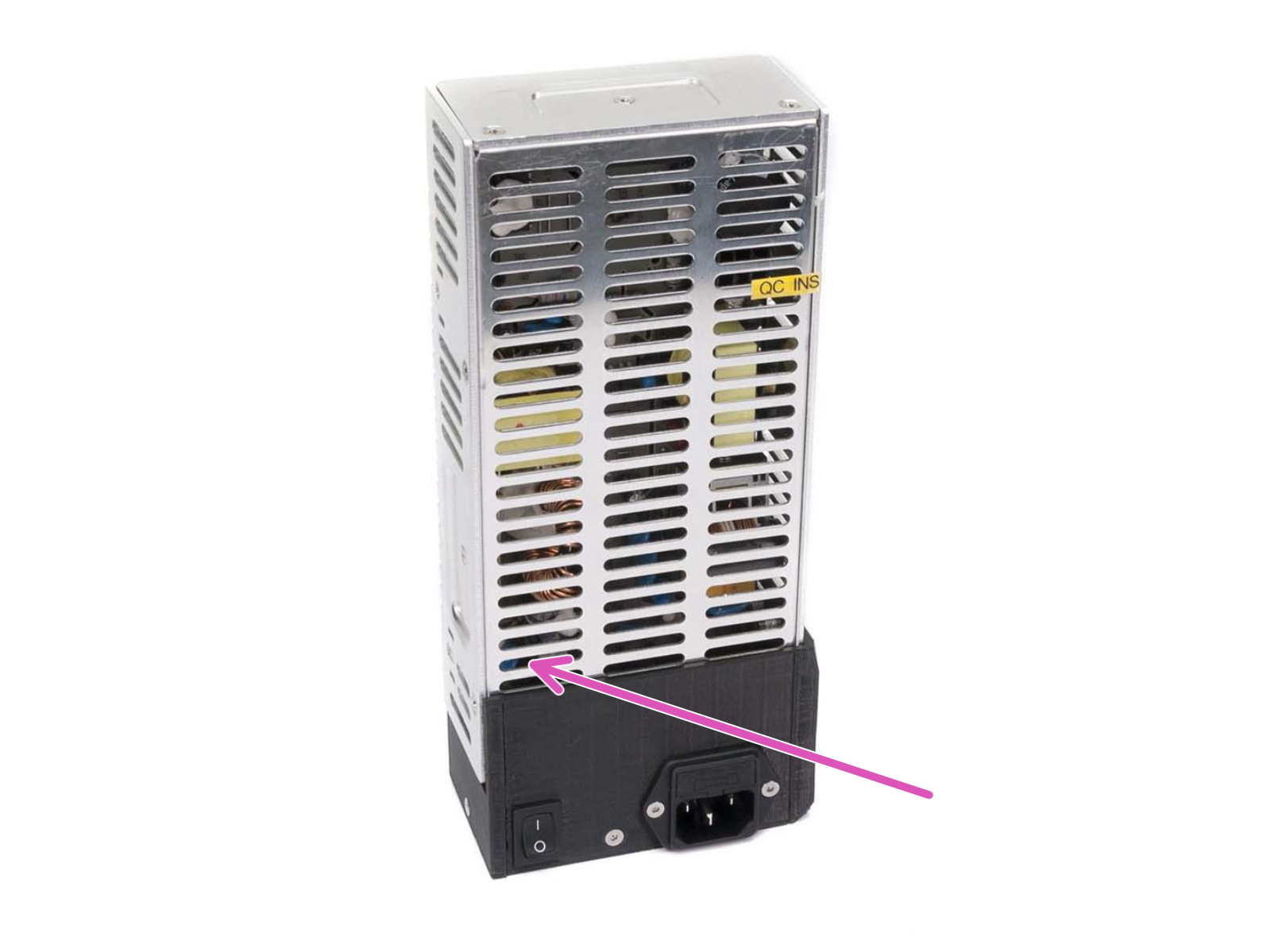 The black Delta PSU has this LED hidden behind the cover of its terminals. Remove the two screws on the cover (green circles) to reveal the terminals, for probing with a multi-meter, and the green indicator-LED (orange arrow).

The power switch on the black Delta PSU does not have an LED.