Firmware updating & flashing problems
Always make sure that the latest DRIVERS & APPS package is installed on your computer before flashing the firmware. Sometimes, uninstalling all programs you have from us, downloading the Drivers and installing them again solves the problem.
 Before checking the following steps, verify that you have followed all instructions in the Firmware upgrade and flashing article word by word.
There is always a small chance that the problem was just a "one time bug". Therefore, we suggest allways trying to do the normal firmware update again, just to make sure. 
PrusaSlicer will detect the USB-connected printer even when it is powered off, but in order to upgrade the firmware, the printer has to be powered on!
Do not connect both USB cables at the same time! Each firmware must be flashed separately and only one logic board can be connected at a time.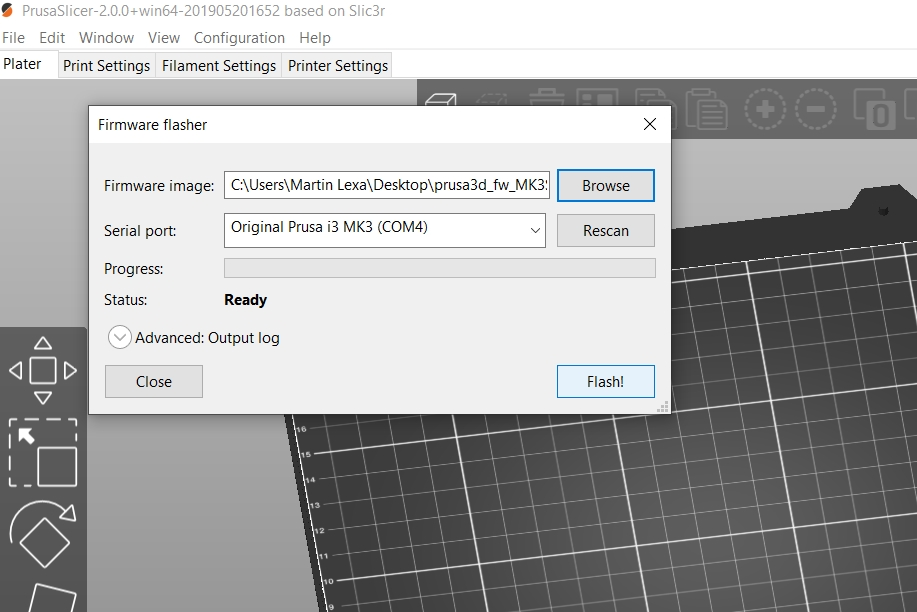 Most common updating & flashing problems
Another cable and USB port
First of all, please try to use another USB port of your computer. Then hit the Rescan button in the Firmware flasher tool in PrusaSlicer.
Make sure the USB cable is interted all the way on both sides, and maybe try another cable as well.
Do not unplug the USB cable before Firmware Updater tool in PrusaSlicer confirms that the process was successfully completed.
Timeout error
The Firmware Updater tool is not getting a response from the miniRAMBo or EINSY RAMBo board. Check that your printer is powered on. The next step is to check your fuses, you can visit this articles for more information: Blown Fuse (MK2S, MK2.5, MK2.5S) or Blown fuse (MK3, MK3S)
Uploading different file
"Wrong file has been selected for flashing". Make sure to unpack the .zip archive with the firmware and select the .hex file for your printer model.
COM port/device
Sometimes, the printer is showing up in Device manager, but not among COM devices - If you can find the printer in the device manager, but not as a COM device, follow these steps:
Reinstall the drivers from the installation folder:
C:\Program Files\Prusa3D\Rambo\dpinstx64.exe (64 bit systems) or
C:\Program Files\Prusa3D\Rambo\dpinstx86.exe (32 bit systems)
Restart your PC after you do so.
Check if the printer is showing up in device manager as a COM device. Use that COM port and manually fill it in the port section in the software.
If the Firmware flasher gives you an error saying it is not able to communicate on com3 or another port, check your Port settings - some other device may be using that port. Eject that device, or change its com port to another number, and restart your computer.
Squares on the LCD
After flashinfg the firmware, does your LCD show only squares? If the LCD and menu were working correctly before the firmware update, then firmware for different a printer model was flashed. Make sure you selected the proper one (MK2.5S/ MK3S/ Multimaterial).
None of the problems are permanent 
Our bootloader is "read-only" that means that even if you upload improper firmware or make any other mistake, there is always a way to make things right. The best practice when uploading or flashing simply does not work is to follow the steps for a Factory reset of all data.
---
How did we do?
---
---